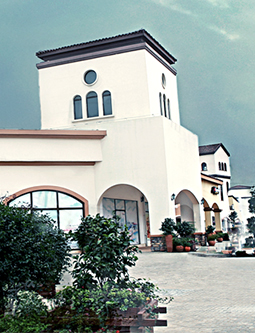 The project is located in Changsha, a city with 3,000 years of civilisation history.
Changsha is a major city in Southern China. It ranks among the top in terms of integrated capability and integrated competitiveness. Meanwhile, Changsha is committed to develop itself into an influential cultural city, a world-class tourist city and a commercial and industrial centre in South Central China.
Speaking of economy, Changsha maintains a relatively high level at economic growth in Central China as well as in the whole territory with its rapid development. According to information from Changsha Statistics Bureau, Changsha realised GDP of RMB569.218 billion in the first three quarters of 2014, up approximately 10% year on year. It is one of the only six provincial capitals where growth rates were over 10%.
As regards soft power, Changsha is renowned for its ancient civilisation history and beautiful natural scenery. Being the origins of Chu-Han Civilisation and Huxiang Culture, Changsha has nurtured numerous talented personages. In Changsha, Yuele Mountain stands at the west bank of Xiang River, which passes through the whole city and connects Liuyang River flowing from the east. In the middle of Xiang River, Orange Isle lays with tranquility. The stunning scenery was awarded the reputation of "Global Green City" during the 2013 Global Forum on Human Settlements and Awards Ceremony that coincided with the Berlin High-level Dialogue on Implementing Rio+20 Decisions on Sustainable Cities and Urban Transport. Thanks to the cultural aroma and picturesque landscape, Changsha was ranked among the "Happiest Cities in China" for several times.
In view of this, the Group picked Changsha for its sole choice of developing Changsha Outlets Project.
Changsha Outlets Project is an outlets-backed integrated project consisting of high-end Spanish-style residential apartment and a shopping mall with international top brands, including restaurants, five-star cinema, household furniture exhibition centre and other stores. There are more than one hundred merchants selling men and women's costume brands, boxes, bags and accessories, household and living experience houses, amusement park for kids and popular shoes and bags shops. It serves as a role model of "commercial + residential" property. The Outlet Plaza has commenced full operation in October 2014.